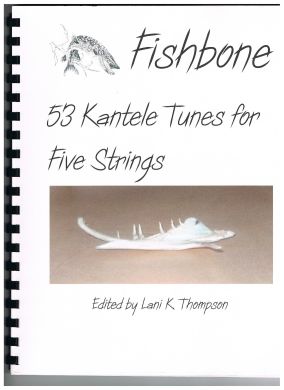 There are songs for beginners as well as more advanced players. All the songs in this book can be played by changing only one string from F to F#. Many tunes include accompaniments for a piccolo five string.
The e-book includes song files (in .mp3 format) so you can hear how each kantele part sounds by itself or with other parts.
---
To order, click on the version of the book you wish to purchase.
Table of Contents
Editor's Note
Grandmother's Cradlesong by Hiroko Ara Click on title to see this page.
A Tiskit, A Taskit - Traditional American
The Harvest Men by Lani K.Thompson
Autumn by Scott Miller
Melkutus - Traditional Finnish
Nannon's Song by Rhiannon Woollard
Amber Hearts by Lani K. Thompson
Waltz From Lapinlahti Traditional Finnish
Paholaisen Marssi - Traditional Finnish
Rykälinnun Laulu - Traditional Finnish
Churchbells of Konevitsa - Traditional Finnish
Käin Minä Kaunista Kangasta Myöten - Traditional Finnish
Triplets by David D. Thompson
Raindrops by David D. Thompson
Ode to Loon Song (Simplified) by David D. Thompson
Tanssisävelmiä From Lapinlahti - Traditional Finnish
Laulu by Scott Miller
Promises by Lani K. Thompson
Väinämöinen's Birth by Lani K. Thompson Click on title to see this page.
Ukko Dancingg by Lani K. Thompson
Velisurmaaja - Traditional Finnish
Onko Niin - Traditional Finnish
Tottele - Traditional Finnish
Hyvää Iltaa Nytkullalleis - Traditional Finnish
A Minor Waltz by John Nurmi
Forest Walk by John Nurmi
Ode to Loon Song by David D. Thompson
Little Bouncing Ball by Lani K. Thompson
Turn-About by Scott Miller
Tanssi by Scott Miller
Go Tell Aunt Rhody - traditional American
The Baby Crocodile by Rhiannon Woollard
Daddy's Eyes by Lani K. Thompson
Banks of the Ohio - traditional American
Little Acorns by Lani K. Thompson
Jelly Bears by Lani K. Thompson
Kalevala Hymn by Lani K. Thompson Click on title to see this page.
Lindsey's Song by Lindsey Woollard
Chipmunks by Lani K. Thompson
Skipping Along by Lani K. Thompson
Yet the Birch Tree Sings by Lani K. Thompson
Karhupeijaispolska - traditional Finnish
Sparkles by John Nurmi
Tuuti Tuuti - traditional Finnish
Ukko Noah - traditional Finnish
Kakkuri - traditional Finnish
Tikan Tanssi - traditional Finnish
Beautiful Brown Eyes - traditional American
Pekka's Piccolo by Lani K. Thompson
Magic Sampo by Lani K. Thompson Click on title to see this page.
Working in the Meadow by Lani K. Thompson
Eine Kleiner by David D. Thompson
5x5 by David D. Thompson
About the Composers